I came across this fun
"Book-a-Day" Challenge
via Facebook, and decided to take part with Maximilian. Since he is really into reading at the moment, I figured this would be a great way to introducing new books!
Here is the full Challenge list: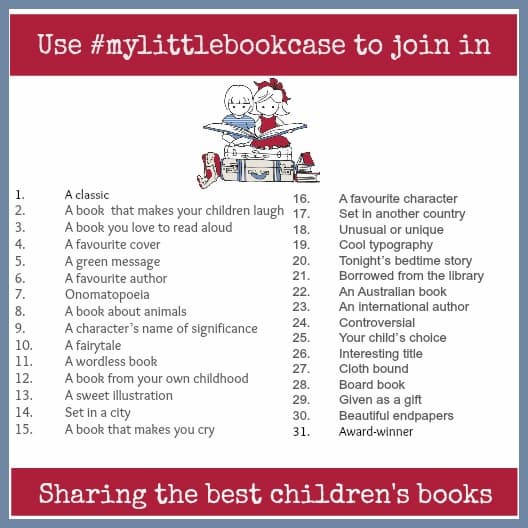 Although the challenge is for any children's books, I decided to limit my selections to picture books - simply because they are the most age appropriate for Maximilian at the moment. It would be interesting to do the challenge again with junior fiction some time down the track.
I've been taking part every day and posting the results on Facebook. I missed a few days, mostly because Maximilian was just too tired to participate by the end of the day and there were a couple of days where I was just plain stuck for a selection. Here is our full list of selections:
1. A classic: The Very Hungry Caterpillar by Eric Carle
2. A gook that makes your child(ren)laugh: Kisses for Daddy by Frances Watts and David Legge
3. A book you love to read aloud: The Very Hungry Bear by Nick Bland
4. A favourite cover: Where the Wild Things Are by Maurice Sendak
5. A green message: Where is the Green Sheep by Mem Fox and Judy Horacek
6. A favourite author: Dr Seuss (Green Eggs and Ham)
7. Onomatopeia: Along Came a Bedtime by Ian Whybrow
8. A book about animals: Whose Baby Am I? by John Butler
9. A character's name of significance: -
10. A fairytale: -
11. A wordless book: Window by Jeannie Baker
12. A book from your own childhood: Each Peach Pear Plum by Janet and Allen Ahlberg
13. A sweet illustration: Ben and Duck by Sara Acton
14. Set in a city: Goodnight, Goodnight, Construction Site by Sherri Duskey Rinker and Tom Lichtenheld
15. A book that makes you cry: Charlotte's Web by E. B. White (I cheated, this is not a picture book!)
16. A favourite character: Mr McGee by Pamela Allen
17. Set in another country: Five Little Fingers and Five Little Toes by Mem Fox and Helen Oxbury
18. Unusual or unique: I Want My Hat Back by Jon Klassen
19. Cool typography: A Bit Lost by Chris Haughton
20. Tonight's bedtime story: Stuck by Oliver Jeffers
21. Borrowed from the library: Room on the Broom by Julia Donaldson
22. An Australian book: Christmas Wombat by Jackie French and Bruce Whatley
23. An international author: Hug by Jez Alborough
24. Controversial: The Story of Ferdinand by Munro Leaf
25. Your child's choice: 101 First Words Things that Go by Hinkler Books
26. Interesting title: -
27. Cloth book: Peek a boo Forest by Lamaze
28. Board book: Cookie See, Cookie Do (Sesame Beginnings) by Anna Jane Hays
29. Given as a gift: Some Dads by Nick Bland
30. Beautiful endpapers: Warambi by Aleesah Darlinson and Andrew Plant
31. Award winner: -
I will post more details about individual selections as I get the chance!
I really enjoyed using this challenge as a way to find new books and some of the ones we tried as part of the challenge have become firm favourites for Maximilian. If you are having difficulty finding time to read to your child, a challenge like this can help to make reading a part of every day - once the habit is formed, it's really easy to keep it up!